Reactions to performances
Eleonore's performances
are always
grand
and
intimate at the same time
. Grand because of her
impressive voice
and personal 'aura'. She obtains intimacy by drawing the public into her world with the use of specially chosen sites and with the
scenery
, that
she herself creates
. The spectator gets so an exciting feeling that he has landed in something very special.
(
Annemarie de Raadt, writer and former theatre editor Viva and Première
)
Working with Eleonora last year on her project in the Uilenburg Synagogue was a great experience:
not only piano- playing and singing
, as usual, but a
great experience, covering many disciplines
, enriching each others beauty and strength: the singing, dancing, piano-playing; the scenery, the colours, the atmosphere.
(
Tadeu Duarte, pianist
)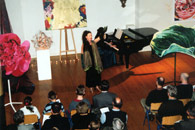 We had a really special evening in the Uilenburg Synagogue; it was very beautiful and both the
location
and the
program
were
completely in harmony
. Thank you very much for this'without a doubt'masterly example of professional skill!
(
one of the spectators about 'Verklärte Nacht'
)
Dear Eleonore,
All our guests enjoyed enormously the concert you prepared for the past New Year's Eve. The
variety of songs
, the
quality of the voices
together with the
enthusiasm
and
temperament
made the total evening to a great success. The
three 'encores'
you were willing to give, to satisfy the continuous applauding by our guests for a continuation of the spectacle, were most appreciated. I sincerely hope that we will be able to be calling on you for future performances at the Hotel Savoy.
(
Prague, E.F.J. van Dal, General Manager
)
Eleonore van de Mortel...
dramatic
,
musical
and
refreshing
... I can recommend her performances to inaugurate a new theatre!
(
Joost Koldewij, architect
)
Getting
3700 colleagues, who are not principally interested in music,
to fall still as mice
during a party, says enough. Eleonore is professional, adventurous and
enchanting
.
(
Kees Albrecht, neurosurgeon
)
It was a
wonderful, clear-cut performance
! All fell in the right place!
(
Mirjam de Zeeuw, artist about 'Folklór'
)
What a
sparkling performance
! Varied,
perfect for your ear and your eye
.
(
one of the spectators about 'Folklór'
)
Eleonore's performance
for the European Society of Cardiology in the Museum van Loon had
special quality
,
vitality
and a
certain magic touch
. Our group was really impressed. Her performance was captivating, varied and a
delight to the eye
!
(
Irene Hellemans, cardiologist
)